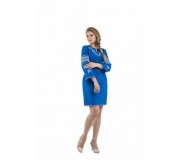 Women's embroidered dresses: traditional Ukrainian beauty
Looking for a unique embroidered dress? Visit the website!
Buy a women's embroidered dress - embodiment of elegance and national spirit
Women's embroidered dresses are a symbol of Ukrainian culture and traditional folk art. Each vyshyvanka is a unique creative work made with love and craftsmanship. On the vyshyvanka website, we offer a wide selection of women's embroidered dresses that can emphasize your femininity, beauty, and pride in your roots.
Women's embroidered dress is a combination of classic cut and luxurious hand embroidery. It has become a symbol of dignity and national identity. By buying an embroidered dress on our website, you not only get beautiful clothing but also a piece of Ukrainian history and culture.
In our assortment, you will find various models of women's embroidered dresses: from simple dresses to exquisite evening gowns. All our products are created using high-quality materials and threads, ensuring their durability and comfort for the owner.
By buying a women's embroidered dress on the vyshyvanka website, you can be sure that you will receive a unique product created with love and skillful hands of masters. Our vyshyvankas are a combination of traditional beauty and modern style that will make you feel like a true queen at any event.
Reliability, quality, and exclusivity are the main advantages of our women's embroidered dresses. Visit the vyshyvanka website to choose the best embroidered dress that will add charm and unique charm to you. You deserve the best!