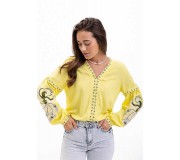 Women's Embroidered Shirts: Symbol of Ukrainian Culture
Traditional Motifs and Ornamentation
Geometric Motifs
Women's embroidered shirts have a diverse ornamentation, based on geometric motifs. These motifs can be represented in the form of stripes, rectangles, circles, triangles, and other shapes. The geometric ornamentation gives the shirts symmetry and harmony, while having various color combinations.
Plant Motifs
Embroidered shirts often feature decorative plant motifs. These can be grapevines, pomegranates, viburnum, heraldic flowers, chamomiles, and other plants. The plant ornamentation gives the shirts a natural, ecological, and symbolic feel.
Materials and Embroidery Techniques
Natural Materials
Women's embroidered shirts are traditionally made from natural materials such as linen, cotton, or silk. These materials provide comfort and a sense of naturalness when worn.
Embroidery Techniques
Embroidery on women's shirts can be done using various techniques: cross-stitch, smooth stitch, goldwork, loop stitch, thread stitch, and others. Each technique has its own characteristics and can give the shirts different textures and sophistication.
Women's Embroidered Shirts: Symbol of Tradition and Style
Reasons for Popularity
Related to National Identity
Women's embroidered shirts are not only a clothing item but also a symbol of Ukrainian national identity. They are preserved as a sign of national pride and the diversity of cultural heritage.
Aesthetically Appealing Design
Women's embroidered shirts have a unique and aesthetically appealing design. They are often adorned with original motifs and vibrant colors, making them visually attractive and stylish.
Stylish Combinations and Accessories
Combining with Modern Clothing
Women's embroidered shirts can be stylishly combined with modern clothing, creating a unique and original look. For example, women's embroidered shirts go well with skirts of various lengths, jeans, or pants.
Complementing the Outfit with Accessories
To create a stylish outfit with a women's embroidered shirt, various accessories can be used. Shoes with embroidery, bracelets, earrings, scarves, bags that have embroidery or decorative elements in the form of embroidered ornamentation, will be an excellent addition to the outfit.