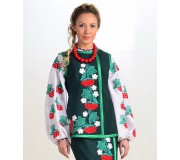 Ukrainian Modern Corsets: Classic Style with Contemporary Elegance
1. Elegance of Ukrainian Folk Art
Ukrainian modern corsets intertwine classic beauty with the unique aesthetics of folk art. Even in modern designs, you can feel the influence of Ukrainian embroidery, geometric patterns, and exquisite sophistication.
2. Use of High-Quality Materials
Ukrainian modern corsets are made from high-quality materials such as silk, satin, and natural cotton taffeta. These materials provide comfort, softness, and durability, allowing the skin to breathe freely.
3. Variety of Styles and Designs
Ukrainian modern corsets offer a wide selection of styles and designs to satisfy any taste and style. From classic options with a round neckline to bold models with a sweetheart neckline, every woman can find the perfect corset for any occasion.
a) Embroidered Corsets
One of the most popular styles of Ukrainian modern corsets is embroidery. These corsets successfully combine modern design with traditional Ukrainian paintings, adding a special charm and uniqueness.
b) Lace Corsets
Lace corsets are a true symbol of femininity and sensuality. Ukrainian modern corsets with lace can have various lace inserts, creating grace and further accentuating the figure.
c) Corsets with Contrast Inserts
Another trend in Ukrainian modern corsets is the use of contrast inserts. Bright, vibrant colors or patterns combined with the main color of the corset create a fantastic interplay of shapes and lines, ensuring a highly striking appearance.