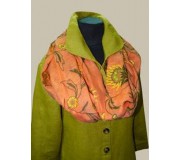 Scarves: stylish and practical accessory
Scarves - an essential part of the wardrobe
Scarves are one of the most expressive and practical accessories that can significantly change the style of any outfit. They not only keep you warm in cold weather, but also add a touch of style and elegance, emphasizing individuality.
Variety of scarves
Scarves can be found in various variations - from thin spring silk ones to thick and warm woolen ones. They can have different colors, designs, and sizes. There are classic rectangular scarves, as well as round, triangular or even snoods - knitted scarves worn around the neck.
Various ways to accentuate scarves in an outfit
Scarves can be used as the main accent of an outfit or as a complement to clothing. They can be a small accent of bright color among pastel clothing or, on the contrary, a subtle hint of style among formal attire. Scarves can be worn tied in various ways around the neck or as a belt on a bag or dress.