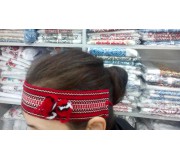 Wreaths: enchanting beauty for hair
A romantic accessory for a special look
Tenderness and femininity in every wreath
Wreaths or headbands are delicate and elegant hair accessories that add a special charm and romance to any look. This little intricate hair element will be a wonderful choice for those who want to highlight their femininity and delicacy.

Hairstyling with wreaths
Your hair is your calling card
Wreaths/headbands are not only a stylish accessory, but also a convenient way to style your hair. With a variety of shapes, colors, and materials, you can easily find a wreath that matches your look and style. They add volume, embellish the hairstyle, and instantly transform ordinary hair into charming and dreamy.

Wreaths for all occasions
A wreath for every mood and event
Wreaths can be used for any occasion - from everyday looks to special parties or even weddings. Whether you choose a romantic look with delicate flowers on the wreath or an elegant solution with crystals and pearls, a wreath is capable of complementing your appearance and declaring your flawless style.

Wreaths: a wonderful gift
Expressing love and gratitude
Wreaths are also a wonderful gift for special moments in life. They express tenderness, love, and gratitude towards someone. A gift with a wreath will emphasize your care and gentle feelings towards the recipient, and will also serve as a great keepsake of a unique event.