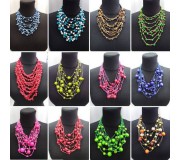 Accessories for an embroidered shirt can complement its design and give the image completeness. Here are some of the most popular accessories for Vyshyvanka:
Belt. A belt is an important element of national dress that can be used to emphasize the waist and add style to the image.

Dress. Women's embroidered dresses can be combined with light dresses made of natural fabrics, which creates an elegant and romantic image.

Hoop. A hoop made of floral fabric or with embroidery will add femininity and lightness to the image.

Embroidered earrings. Embroidered earrings are a stylish accessory that can be combined with an embroidered jacket and other elements of national clothing.

Bag. An embroidered bag can be a great addition to an image, it will add originality and style to it.

Imitation jewelry. Embroidered jewelry is another option that can complement an embroidered dress. For example, bracelets with colored threads or pendants with embroidery.

These accessories will help to add additional originality and uniqueness to the embroidery, and will make your image stylish and fashionable.