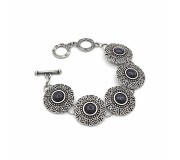 Jewelry made of metals: stylish and affordable luxury
High-quality materials
Jewelry made of metals is elegant and charming accessories created using high-quality metal alloys. Made from metallic materials such as stainless steel, copper, bronze, or alloys based on these metals, these decorations have a striking appearance and durability.
Luxurious design
Jewelry made of metals is adorned with delicate details and beautiful embellishments that give it sophistication and chic. From classic models to fashion trends, metal jewelry caters to a variety of tastes and styles. Crystals, pearls, various stones, and other natural materials are often used to create incredible designs that attract attention and can enhance any outfit.
Accessibility and versatility
Jewelry made of metals is luxury that is accessible to everyone. Its cost is significantly lower than that of precious metal products, but it still has an impressive effect and can give the image a unique charm. Metal jewelry is also versatile - it suits any style and looks great both in everyday outfits and at special parties or formal events.